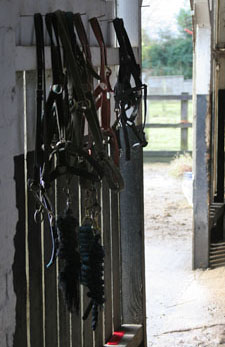 They say variety is the spice of life and this week has it in spades – today I spent the morning with Prue Barrett and Brett Mace; Prue is the new Eventing Team Performance Manager and it was good to spend time with them, understanding what Prue is planning in terms of her new role and the changes she is considering in terms of how to try and ensure Australia (and hopefully me!) win gold medals in 2012. Prue has ridden at an elite level and so understands the riders perspective and has been the assistant coach for a while and so has plenty of experience. She is bringing some new ideas to the way they manage the team(s) and develop the riders both within Australia and overseas. Change, in this instance, I think will be good and bring some fresh perspectives and approaches.
After chatting with them for a while I then schooled Hipp, Tim and Coco for them to watch on the flat, so they could have a look at a few of the horses. Both Hipp and Coco are on the Australian short lists while Tim is going to Badminton and they expressed interest in him last year – so it was good for Prue to see them working at home and where they are up to.
I then went cross country schooling this afternoon – Thea came with me on Bob to get her eye in before Swalcliffe and I rode Dotty and Figgy. Dotty is coming on well and is very grown up for such a young horse. Figgy was having her first cross country school of the season before she runs at Oasby on Sunday and she went well. I was really pleased with her as she came out well and didn't have any green moments.
All in all a good day. Tomorrow I'm at the gallops and schooling horses at home before our next marathon three days at Oasby – it will be good to get the horses out again and I'm hoping they will all go well and be a little less fresh than last week at Aston.
Cheers,
Bill
Posted 9th March