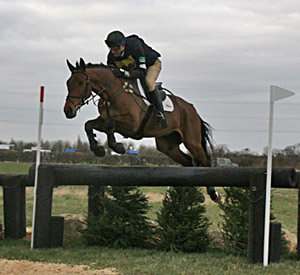 I'm just back from my first day at Oasby, and its been an OK day – as ever the ground at Oasby was very good. In fact it could probably take a bit of rain which they predict tonight so I'm hoping we will have good ground for all three days.
The Novice course was tough enough, or maybe I've just gone soft over the winter. There was a difficult corner which in many ways was more of an intermediate test as it was on a tight angle with a couple of big milk crates on top which horses were spooking at. Eight out of the first ten horses ran past it and so from then on most people took the option. I tried it on Fin as he has a little more experience and he jumped it well but on Moose and Womble (pictured) I went the long route and Womble had a cheeky moment and still ran out, the mongrel!
All three of my novices (Womble, Fin and Moose) were fresh in the dressage – in many ways it's good that they are expressing that they are pleased to be out, however it is leading to them all being sharper than I would like and as a consequence all of them produced pretty average tests – which is not a major concern as when they settle all of them will do a nice test.
Moose jumped much better today – I tried a different bit and rode him more slowly and up to the front rail and that seemed to work well with him. Womble and Fin jumped well and both coped with the novice height very easily.
I cracked on with Moose across country as Miranda was keen for me to do so and I think he got the fastest round of the day – which is a reflection of his enormous stride and previous life as a national hunt chaser.
Anyway it was a good, all be it long, day and sadly the trip home was rather longer than planned due to Friday night traffic and me losing my marbles and taking rather a strange route. I'm back tomorrow with Silks, Danny and Figgy which should be a good day out – and then on Sunday with Alex and Minty while Jenny has Mac and Bluey.
So let's hope the ground holds, the weather is kind to us and the horses relax a little in the dressage but jump their socks off!
Cheers,
Bill
Posted 11th March