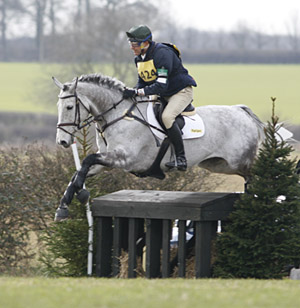 I was back at Oasby today with three more in the novice sections – given they've had so many entries and had to ballot they have limited each rider to three a day. Which is not an issue other than in terms of fuel consumption – but I won't complain as it is better than being balloted!
I had Figgy, Dan and Silks (pictured) running today – and I was pleased with all three of them for different reasons.
Figgy is a horse I've been riding for a year and a half now and she and I now have a good partnership. I was really pleased with how she went today given it was her first run of the season – she was on her toes and a bit keen and fresh in the dressage but she gave me a lovely confident ride in the show jumping and cross country achieving a super double clear and coming 4th.
Dan and Silks are horses I also think a lot of but both are newer rides to me and both have previously been ridden by other people so there is a bit of me getting to know the horses and the horses getting to know me, and the horses getting comfortable with my style of riding especially cross country where, once they are confident, I like to ride with softness and pick fences up (where possible) out of a nice forward and soft rhythm. This is something Silks and Dan are still getting used to as it's early days in my partnership with both of them.
Dan was a little less tense in the dressage although still not settled or an easy ride. He show jumped his usual immaculate clear and then went well cross country, but not without incident. I thought he was going so well that I could stop riding him so strongly and trust him a little more to the fences, picking up shots out of a rhythm. however Dan is still a little suspicious and not completely trusting of me so we had an annoying 20 penalties.
With Silks the dressage was again below par although for different reasons. He got something in his ear about half way through the test (an insect we think) and then pretended to be completely inattentive for the remainder of the test – one of those things. I tried a different bit for the show jumping and that worked well and he gave me a better rider to and in between the fences, jumping a nice clear. He then gave me a nice ride cross country – although I will be going back to my former bit choice for the cross country as he got a little on the bridle and I find him easier in the bit I rode him in last week across the country –however it was yet another good learning experience with him.
I'm back tomorrow with Minty and Alex for the BE90 and BE100 respectively. Sadly Jenny has had to withdraw Mac and Bluey as Mac is not quite right after an incident in the lorry yesterday and Bluey is a little below par having picked up a bug (which he is now rid of) and so is off games for a few more days. Sad for her as she doesn't get the opportunity to compete as often as me as she's having to juggle work and kids etc but as we all know that's horses.
Cheers,
Bill
Posted 12th March