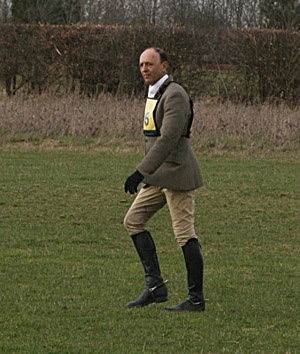 I was back at Oasby today for a final day with Alex and Minty and I was really pleased with how both horses went.
Alex did a nice dressage to lead his section and then jumped confidently in the show jumping and cross country. I went slowly cross country as he doesn't need the wear and tear – and it's all about giving him experience without miles on the clock under pressure – so he came 4th. He was fresh in the show jumping, spooking in between fences, but it was all harmless. He feels more grown up and mature this year and has learnt from his time doing  BE100's last year. This season is all about him gaining experience at novice level with no pressure, as he will I think be a good horse as he goes up through the grades  – at least that is my hope and the plan!
The BE100 cross country course was more straight forward for the level than the novice had been over the previous days – with all of the fences being very fair for an early season event.
I then rode Minty in the BE90 in which I have to compete HC given the level I ride at (which is fair I think). Anyway she was fresher and sharper than last weekend at Aston and she thought about bucking in the dressage but held it together and then she jumped a nice double clear – she is still quite green and a little wobbly on the cross country course between her fences but she is brave and careful and takes it all on when she gets to the fences. She would have finished 3rd if she had been running competitively. I'm really pleased for Angela her owner as she bred Minty (and her full brother Timmy) and it definitely feels like she's bred a talented event horse which is great news for her and for me!
So all in all a pleasing day at the office, and I managed to get home in time for the kids bedtime stories, which was even better! This week I'm at home all week which is great. I'm taking the 'grown up' horses (Coco, Tim and Harry) for a cross country school tomorrow which I'm looking forward to. Next weekend Coco, Tim, Harry and Figgy are at Lincoln on Sunday and on Saturday I'm taking the working pupils and Jenny to Swalcliffe, our local event.
Cheers,
Bill
Posted 13th March