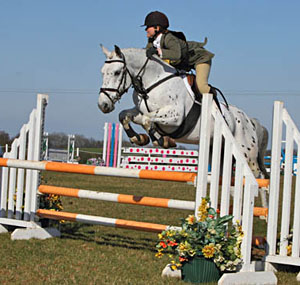 It's been a good day, most importantly Ursula's entry in the village spring fayre won! It was an egg decorating competition and Ursula entered an 'egg at the beach' which, thanks to a little help, included its own sun chair, towel, sand, shells, drink and a dashing bikini and sun glasses. There was strong competition from a 'Kate and Will's scene but Ursula came out on top – very exciting.
On the horse front we were at Swalcliffe and I was officially lorry driver and team trainer for the day as Eleanore was riding Clover, Thea Bob, and Jenny had Mac and Bluey. All had a good day. They had made a real effort with the event, creating a 'big event' feel around the show jumping with lots of stands and different food offerings – it was a great event and thankfully the sun shone after the torrential rain they had last year – so they had plenty of people and spectators which was great for the event.
The show jumping is always up to height here and the course has plenty to do – not the sometimes seen figure of 8, so it was a good course – with the competitors getting variety and plenty of jumping efforts with twelve fences in all.
The cross country required a fit horse as Swalcliffe is not flat and they'd made good use of the terrain. The fences were beautifully built, not surprising as Richard Taylor is based here (his family's farm) and he's one of the UK's top course builders, and so the fences were well presented and built with a lot of variety.
Eleanore and Thea went really well – the work they've put in over the winter has really paid off. Jenny also had a good day with Mac and Bluey on good form and feeling full of themselves – achieving two double clears and Mac getting placed.
I'm off to Lincoln tomorrow with the 'grown up' horses. I feel the horses are well set up for their first run (for all except Figgy who has been out already this season as she heads to Compiegne). I'm looking forward to riding them all tomorrow. It will be a long day but its worth the trip as the ground is always good and the courses are good, well built with good variety.
I will report back on progress at Lincoln tomorrow.
Cheers,
Bill
Posted 19th March