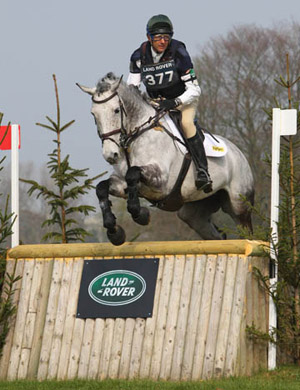 Well, Gatcombe's second day has been and gone. It was good to get a run under Coco's belt and have Silks do his first intermediate run with me. However the whole day was tinged with sadness when we all heard that Spring Along had had a heart attack on the cross country course and died. A horse of a lifetime for Daisy and our thoughts are with her.
The ground turned a little firmer for the second day but there was still a decent cut in it. The show jumping caused its fair share of penalties with up to height jumps on related lines. I thought it was a good course that took a bit of riding. Silks was very strong in the show jumpingp; he was jumping well but I need to change his bit again. I changed it after our last outing together as I felt he was overbitted but now he's too strong so I will need to find something in the middle – nothing ever stays the same with horses and there is a need to keep experimenting and changing as they change. Coco was pleased to be out and was feeling very well, and just had an unlucky fence in the show jumping.
The cross country was a similar story for my first ride on Silks cross country at Intermediate level. He showed he is well capable of going up the grades, but our lines of communication need to improve and it was certainly not the smoothest round I've ever jumped.
Coco gave me a good ride around and it was a good outing for him. The course at Gatcombe never changes too much, but it is just what is needed to keep getting your horses in the groove during the early part of the season.
Belton is just around the corner and the season feels like it's all in full swing and moving along very quickly. I'm not feeling optimistic about Badminton as nothing appears as yet to have shifted off the wait list but I'm trying to remain focused and continue to prepare Tim as if he does go.
The usual busy week lies ahead with lots of comings and goings for Team Levett: show jumping with some young ones on Tuesday, then cross country schooling to try and sort out Womble's steering, and the gallops on Monday and Thursday, so there will be plenty to report on later in the week.
Cheers,

Bill
Posted 27th March