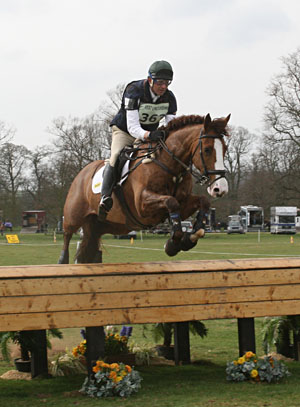 Just finished a good first day at Belton – all four of my novice rides jumped double clear which was really pleasing.
The ground at Belton was much better than I had expected – given the lack of rain recently I was concerned it would be firm, but they've clearly had more rain than we have and the ground had a good cut in it. The novice track was, as usual, up to height but well built and in terms of technicality a relatively straight forward track.
Dan (pictured) went better today, he was a little more relaxed in his dressage, scoring sub 40 for the first time! He was also more relaxed and confident in the show jumping but was still green cross country – it will come as he learns to trust me more and as he gains confidence in our partnership – he's not used to it when I see a stride from a long way away and want to ride on to it – but all of this will come. He has a cracking jump and I am fascinated by his brain and so really enjoy riding him.
Womble did a good dressage, his best yet at novice level – he was much more rideable allowing me to ride him in the arena. He's also a real jumper and he jumped a nice double clear – I had been cross country schooling in the week to try and sort out my steering as he's been having annoying 20 penalties because I've not been able to turn him up to fences – but I hope this is now behind us with a change of bit.
Fin did a nice test and jumped a good clear show jumping. He was the best of my rides cross country, he has really matured and gave me a cracking ride – very settled and listening, taking it all in his stride.
Alex handled his first novice well. It is always interesting when you take them up a level; he is still a baby and as such is green, which of course is to be expected and he will come along quietly this year with lots of improving to do.
Tim was doing his dressage today and he warmed up very well, however he was wild in the arena – he got lit up with the flags and atmosphere which was a shame but at least he was pleased to be out! I'm hoping against hope he will get in to Badminton although to date only three have moved off the waitlist so it's not looking promising – we shall see.
I've not yet walked the advanced but I've seen a few of the fences as I was walking around the novice, it looks meaty enough.
I'm back tomorrow with Silks and new ride Roller doing the intermediate, and Coco and Harry doing their dressage for the advanced.
Cheers,
Bill
Posted 1st April – Photo HM