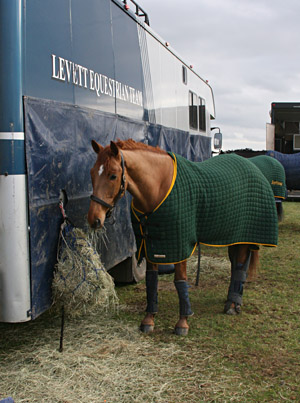 It's been a busy day as I was riding early this morning with the Sapey and Burnham Market horses to put through their paces and then a busy day at Hunters, near Cirencester, and it's not over yet – we are currently on our way home from a successful outing there. They were running an eventers dressage day with one, two, three and four star tests which gave me a chance to practice upcoming FEI tests. I took Silks to do the 2 star, Harry and Coco for the 3 star and Hipp for the 4 star test.
Overall all the horses went well and it was good for me to get in the ring and ride the tests in a competition situation. I've been working on all the movements for months and months and know the tests but it's good to put it all together in the ring and get some constructive critique and feedback, and also to see where the horses are at in the ring and how much work they need in preparation etc.
Silks tried hard – there is still some improvement to come but I was pleased with his test, despite some small errors which I can hopefully improve on; he scored in the high 60's percentage wise. I was also pleased with Harry who also tried hard scoring well and trying hard with the three star test – he's not the easiest horse on the flat as he's not very forward thinking but he's got good movement and can do all the movements correctly and well if I ride him well!
Coco was again feeling full of the joys of spring and did some lovely work but also was a bit of a boyo at times, in the walk and canter especially – he is so full of himself this spring – a good thing but it makes him a bit of a lad at times. I actually took him in again at the end of the competition to work him through the test/movements once more in the arena to make sure I got it all nailed and he went exactly as I'd like him to – he's not going to get the better of me!
Lastly but no means least I had Hipp in the 4 star Badminton test. It was nice to get him off the place and out and about again. He was a little short of preparation for some of the movements, for example the medium and extended trots as he's not really started to do those yet given he's been coming back from an injury, but his walk and lateral work was secure and his changes were good – he feels stronger and remains well established in nearly all of the movements. It was great to be riding him again, like putting on a pair of old slippers – I am looking forward to having him back in action either later this year or the spring of next depending on how the rest of this spring and summer goes with his dressage training and continued rehabilitation.
There's no rest for the wicked as when I get home I am riding Tim who's in his last 10 days of preparation pre Badminton, although I'm getting increasingly depressed as unbelievably there are still only six horses off the wait list: given in the last few years they've had between 30 – 40 off the list it seems that this year for some reason the waitlist is not getting a look in. What will be will be.
We have an early start tomorrow leaving at 5.00am for Sapey with the Novice horses, Alex and Womble are on before 9.00am in the morning for dressage – I hope Sapey has had some rain today/and will have some overnight otherwise I'm worried it will be too hard to run cross country. We shall see what the morning brings.
Cheers,
Bill
Posted 11th April