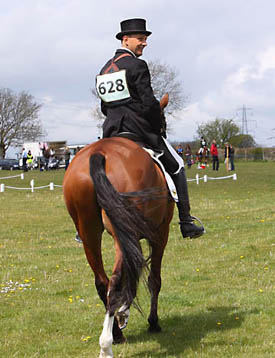 It's been a good day – I'm pleased with Silks, Coco and Harry, they all tried hard today.
Silks was doing the CIC**. He was on the whole obedient although there were some mistakes and there is plenty of room for improvement – he scored 47.1 and I think Pippa's in the lead on a 40 so I was pretty pleased given this is the first CIC** test I've done with him. He's not a hot horse and so once he is more confident in the movements and in his training I think he will score well and he's not hard to set up for a test.
Harry was doing his first CIC*** test and he tried really hard. I was pleasantly surprised with how he went as he can get very off the  bridle but he stayed forward and through especially in some of the trot work. He scored a 59.0 which was OK for his first 3 star – he was late in his changes and there is still lots of improving to do but I think he will score well once he gets more established – there is plenty of improvement to come and I am pleased with how he went.
Coco was also doing the CIC*** and I had the chance (and chose to) make sure I really set him up for today's test. Stabling on site always seems to help him; Coco is not a hot or stress horse but he can be a bit of a boyo and mess about if I don't have him focused – so I worked him a couple of times today  before his test and as a consequence he was really rideable – I was very pleased with his test and he scored 41.5, putting him in the lead at this stage, with the next best on 45. I'm sure he won't stay there but I was very pleased with how well he went and how he let me ride him in the arena.
Roller doesn't do her dressage until tomorrow and anything could happen as we are still getting to know one another and she's a sensitive, highly strung thing  – very talented, so watch this space for how she goes tomorrow. Other than that tomorrow is about walking the courses and giving the horses that did  dressage today enough work to ensure they are set up for their jumping phases which all do on Sunday.
Cheers,
Bill
Posted 15th April