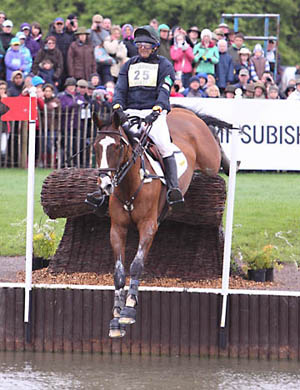 Immense disappointment here at Team Levett as for the first time ever we have a fit horse, primed and ready to run, but cannot go as we are still stuck on the wait list. Tim is in really good form and I'm gutted he is going to miss out – he's a true four star horse and he's suited to the big bold galloping four star tracks – Badminton and Burghley.
Sadly he's not in his youth and so we need to pick where we run him, and he's not really a CIC horse so he's not got that many FEI points and as a consequence has fallen victim to the ballot and ranking system used to wait list horses for Badminton. There's no point getting frustrated but I am frustrated! It seems ironic that a horse than has completed Badminton twice and Burghley twice, three of them with clear cross country rounds is ranked below horses that have only just secured their qualifications – but it is the way the rules and points are allocated and I'm never going to change the rules.
I'm really sad for the horse and for Jan and Matt, his owners, along with my whole back up team as everyone has worked hard to get Tim back to full health after his injury last summer and he's now I think a fitter and stronger horse and, importantly, he and I have a much more established partnership than this time last year when he was still a new horse to me and I'd only actually ridden him for a few months and twice in competition before we went to Badminton.
My back up team have done a great job to get him ready as Tim has thrown us a few curve balls in the last month or so with a number of firsts for him; puss in his foot, followed by a mild bout of colic – all of which just ensured he got extra TLC and kept us on our toes to ensure his preparation wasn't interrupted more than absolutely necessary. There will be many horses at Badminton with similar stories of behind the scenes dramas they've had to overcome to get there.
Tim will now have some down time for a few weeks and I will then focus on dressage and show jumping with him before aiming for Burghley where I hope we won't have the same wait list challenge. I'm tempted to take him to Bramham or Lumhulen but he doesn't need to run at Bramham, he's got nothing left to prove and is genuinely a four star horse while Lumühlen isn't a track that will particularly suit him as it's twisty – and we also have finances to consider. So I have to look at it glass half full and use the time to continue to consolidate our dressage and show jumping practice.
I will still be at Badminton on Saturday as I'm doing a charity course walk for the National Star College based in Cheltenham which supports mentally handicapped and disabled children. So I will get to walk the course and see what's what.
I wish all my fellow competitors a successful and safe week of competition and will have to make do with watching from the sofa while Tim munches grass in the field on Sunday. At least I won't get to miss out on the kids Easter Egg hunt and can give them a good bit of competition in search for the eggs the Easter bunny will hopefully leave this weekend.
Cheers,
Bill
Posted 19th April