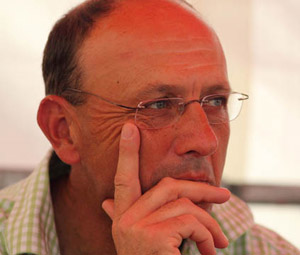 This week has all been about Plan B, as we didn't get in to Badminton. The good news is that I've been at home so have been able to focus on riding and spending time with the kids who are on holiday for Easter. The canter programmes have all been worked out for the upcoming three day events at Saumur, Houghton and Bramham and the horses are all ticking along.
I've also been cross country schooling with some of the younger horses. Dotty continues to impress me and Robbie, a new four year old Jenny and I have bought to produce and sell, had his first experience of getting his feet wet and schooling over ditches which will have brought him on.
We desperately need some rain both for the ground eventing and to be able to ensure the grass grows – I dread to think what the knock on impact to feed and hay prices is going to be if it doesn't rain soon. I'll soon be doing a rain dance – unheard of for an Australian living in the UK!
I'm off to Badminton on Saturday to watch some dressage, do a course walk for the National Star College in Cheltenham and support friends – I'm rooting for Joy Dawes, a good friend attempting her first Badminton – she's more than ready and on a cracking horse so I'm sure she will have a good week and lots of fun and could be in with a crack of a top 15 placing for my money. Go Joy and Fin.
Cheers,
Bill
Posted 20th April