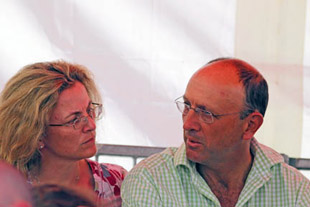 We set off early this morning to beat the crowds and get to Badminton in time to watch Sam Griffiths do his test. We found some shade and managed to watch quite a lot of tests – it's always easy to be an expert from the sidelines but it seemed to me that the judges were marking quite consistently and rewarding forward riding with balance – something Ruth Edge showed to perfection in her test.
I was thrilled for Joy (Dawes) who rode a fantastic test with Fin, I thought her test was accurate and fluent with lovely changes. I thought her collectives were harshly marked which I didn't understand but I'm no dressage judge!
I walked the course twice, once with a group from the National Star College event and once with Joy to try and give her some thoughts before tomorrow when Ill be willing her on from my sofa!
As per last year there is a lot to do in the middle section of the course from after the shooting butt until you head back towards the water. The fences will come up very thick and fast in the Vicarge Vee part of the section. O also think the quarry is an interesting question at the end – the log near the end down the steep bank (which was removed last year due to the wet) could ride inconsistently on a tired horse. If you were clear to here which way you go needs careful consideration.
It will also be interesting to see how the silver birch corners ride – I was surprised at how much trouble these caused last year and also a similar fence at Burnham Market this weekend. I expect many people will have been practising this kind of question at home!
I think the time will be achieved by a fair few tomorrow given the ground will ride fast.
I shall be watching from my sofa with interest tomorrow.
Cheers,
Bill
Posted 23rd April