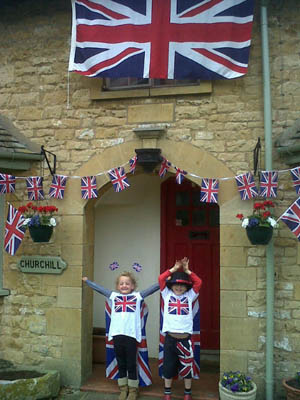 Well it's been a funny old day with the world focussed on the marriage of Kate and William. I thought London put on a great show and looked fantastic with all the bunting, the UK does know how to dress itself up and throw a good party – the Abbey, Mall and indeed much of London looked spectacular.
Jenny and I left Josh and Urssie to carry the flag for us so to speak with the wedding, they've really got in to it, encouraged by their friends with a little help from Grace. They had great outfits for the day and were glued to watching the build up and joined in the local celebrations winning the best dressed at the local pub competition!
Meanwhile Jenny and I were both off at separate competitions doing dressage. Me doing day before dressage at Withington with Fin and Dan and Jenny at Allenshill getting some dressage practice with Bluey and Mac.
We all sat down in the evening to watch the wedding highlights with detailed commentary from Josh and Ursula.
We've had the nice surprise of some visitors from Oz, David and Mark, who are here for a few weeks touring the UK, so it was great to catch up with them and catch up on old times.
I'm back at Withington tomorrow with Dan, Fin and Womble in the Novice and Harry and Coco doing their dressage for the Advanced. The ground in the warm up at Withington was better than I had expected so I'm optimistic for tomorrow as we currently have heavy showers circling. I'm hoping they dump on Little Charingworth as we really need some rain and also at Withington in the next 24 hours.
Cheers,
Bill
Posted 29th April