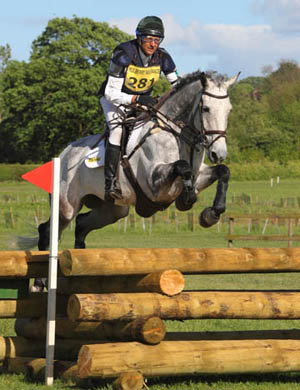 It's been a good day, five intermediates with a couple of first timers and five double clears.
Nigel Taylor had certainly done a lot with the ground, watering and aerovating, and the work along side the rain made it the best going for months, since Lincoln right at the start of the season. So I was only sorry I hadn't entered Coco to pop a few fences pre Saumur, although I don't like to risk them so close to a three day event.
The cross country was big enough to educate a young intermediate horse without being too difficult. But if you had a horse that was heading for a three star three day event there was enough there to give them a canter around and keep them in the groove. There were a couple of skinny brushes which were placed after a bank and coming out of the water. Horses had to cope with 'other things' (the bank/water) going on prior to sighting the skinnies and have the composure to hold their lines. It was not a twisty course and encouraged forward riding. I think Nigel got it right in the type of course and the ground – and all the riders were full of praise for him, including me.
The show jumping track was not overly big on the all weather surface, but like the cross country there was enough for them to think about and it was encouraging for the horse. All of the horses went really well. Womble, Dan and Fin were having their first intermediate outings and it is always interesting when you step a horse up a level as you never really know how it's going to react and cope until you ask them. All of them excelled themselves and I was particularly pleased with how they held their lines very well cross country. Womble ended up in the placings as I took him slightly quicker. He is going to Houghton to do the CCI* and given the ground was good I thought it would help bring his fitness on and get him used to jumping from a faster pace.
Silks and Harry also went well; Silks gave me the best ride yet in what is still a new partnership, being much more adjustable cross country and ending up 5th. I'm hoping the partnership will continue to go well at Houghton. Harry had a confident run pre Bramham, he does it all so easily and eats up the ground across country.
I'm at home on Friday and at the gallops with Coco, and then back at Aston on Saturday with Alex and Moose.
Cheers,
Bill
Posted 12th May