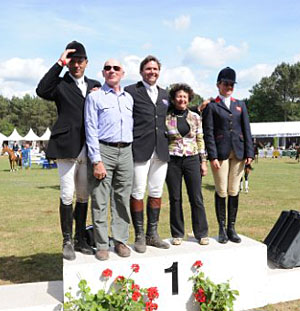 I couldn't be more pleased, a quick blog entry as we drive to try and catch the overnight ferry from Caen to Portsmouth after another great day.
In short Coco seems to have pulled up well; I took him for an early morning hack and he felt on good form. All went well with the trot up and then it was a long wait until the jumping this afternoon.
He was a little keen in the show jumping warm up, I think a left over from the speed and excitement of yesterday, however in the end he settled and stopped rushing his fences, but it was a reminder to me that he's still only young and green at this level. He will learn a lot from the whole experience of the last seven days.
From the first fence once I got in the ring I knew he was on top form and if I rode well he would jump clear; he was feisty but he felt like he didn't want a touch a thing. He's always been a great jumper so that gave me confidence. There had been a lot of 4 faults which had taken the pressure off me a bit, but I didn't need it as Coco jumped a lovely clear. Bendigo and Clayton did the same and so we stayed second.
Still a great result, I was aiming/hoping for a top 3 placing so am thrilled for the horse and Kemps and my whole back up team. As Gerry Kemp reminded Jenny and me, last year at Withington we said we'd achieve a top 3 placing at Saumur in 2011 and we did!
Go Coco.
It's now a dash to the ferry to get back for tomorrow morning to ride the horses at home for Houghton and Bramham, and the others, and give the girls time to turn the lorry around before we leave on Tuesday for Houghton.
Let's hope the run of good performances continues after what has felt like a quiet Spring to this point.
Cheers,
Bill
Posted 22nd May – Photo © Les Garennes