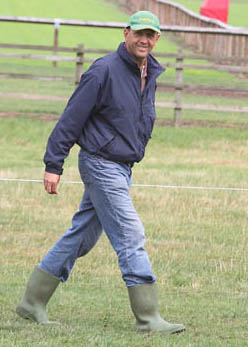 The day started really well with Silks doing his test this morning. I got up early and gave him a couple of works to ensure he was rideable as he can be a bit of a boyo in the ring if he's too fresh. He tried hard in the ring and went as well as I could have hoped for other than the last halt which was a real shame. We thought he scored 40.5 and went in to the lead – so everyone was very pleased.
Moose then had a hack and Womble a good work before his test this afternoon. Womble has settled a lot in the last 24 hours and I'm glad he's had the chance to stay away at an event as he will grow up a lot from the experience.
The heavens then opened with some much needed blustery showers – much as I dislike riding in the rain it is very welcome! Let's hope it keeps up other than when I'm riding competitively.
Womble did his test this afternoon and went well. I was thrilled with his test, I thought he couldn't have gone better holding his concentration in the down pour. Sadly the judges didn't agree and he scored 53.5 which was really disappointing as I thought he'd done a better test than Moose and should have been in the mid 40's – never mind. That's how dressage marking goes sometimes.
Sadly things didn't improve when I found that Silks mark had been changed to a 45.0 dropping him off top spot in to joint 4th place – not my afternoon!
I've given Moose and Womble a jump ahead of their cross country tomorrow and Silks has been for a hack and leg stretch this afternoon.
The one star is up to height but a fair test and I'm looking forward to riding it tomorrow. The ground had improved from aerovating and I hope that the rain keeps up overnight and we will have better ground to ride on tomorrow, still far from ideal but acceptable. One of the most challenging fences comes near the end of the course, a narrow brush fence on a related line to a brush corner, it will be interesting to see how it rides, it's quite a test for a one star horse. I've also walked the two star which is again a fair test, more on that tomorrow.
Moose is first out of mine late morning and Womble at the end of the day, will let you know how it all goes.
Cheers,
Bill
Posted 26th May