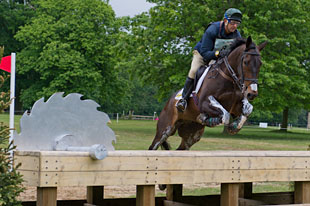 Moose (pictured) and Womble did their cross country today and both went really well, clear inside the time. I couldn't have been more pleased with either of them. The course rode well and the ground was OK. Indeed it got better and better as the day went on as we've had more rain today. Poor Womble had to do his cross country in yet another down pour (on top of the same for his dressage the previous day!) but he coped brilliantly.
The horses so far seem to have come out of things well and be in good form. They show jump tomorrow afternoon.
Silks is in 5th place after the dressage and goes cross country tomorrow morning. The course is fair with one or two distances that will require careful riding but I'm hoping for a good round – I'll let you know tomorrow!
Little phone reception here at Houghton so I'll keep this short and sweet.
Cheers,
Bill
Posted 27th May – Photo Trevor Holt