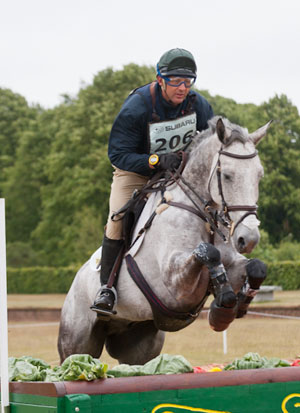 It's been a mixed day at Houghton. The rain kept up overnight which meant further improvement in the ground for the 2 star this morning which was very pleasing. Womble and Moose were well rested over night and passed the trot up with no issues at 8.00am this morning. It was then a quick turn around to warm up Silks as he was on the cross country at 9.42am.
In short I had a disappointing round on Silks – he had gone brilliantly at Aston and also well at Burnham Market and Belton and so I was expecting a good ride. However horses are not machines and he went very green on me on the cross country. He put down in front of fence 4, a lookey set of open rails and I was lucky to stay on (or should I say used my skill!) anyway after using up our luck at that fence I hoped it would wake him up and I gave him a few reminders to get on with the job, however he still was going very green and we didn't have the smoothest ride. Then at the water he just said no a few strides out, running off the fence ducking out to the right. With strong riding I managed to get him in and then with strong riding away from the fence he then seemed to get in to gear and get on with the job and finished far better than he had started. I'm sure it's just a blip and it's one of those things when you take over the ride on a horse which has some history/baggage. It will just take time. Frustrating, especially for Francis who's  been a great supporter, but he's been understanding.
Anyway Silks seems to have pulled up well and at least with jumping in the morning I'll be home to see the kids and ride Harry as part of my Bramham prep earlier than expected! Every cloud has a silver lining! The 2 star caused a fair amount of trouble and all of the top 5 had problems, frustrating as without my blip I would now be in the lead but we all have a story to tell with "……..if only……….."!
The day improved with Womble and Moose jumping clear in the CCI* this afternoon to finish 14th and 11th respectively. Womble has always been a great jumper so I was confident in him, although I only finished 1 second inside the time so needed to wake myself up to not do the same with Moose! Moose is another story – god love him he and I have never jumped a clear round and show jumping is not his strong suit however he pulled out all the stops with a little help from me and jumped his first ever clear!
I'm thrilled for Ali and Miranda that Womble and Moose have gone so well and seemed to have come through the event well.
Silks to show jump tomorrow and then home. I'll keep you posted.
Cheers,
Bill
Posted 28th May – Photo Trevor Holt