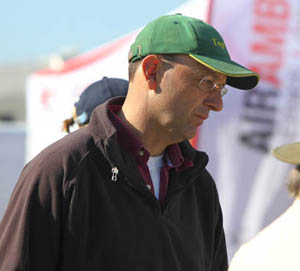 Today I went up to near Peterborough for the annual Lincoln Eventers Jump Cross competition. It is always a good event as they make a lot of effort with the ground. It's a set of knock down fences in a cross country setting and you need a very careful but bold horse with a good bit of experience to do well in the class.
I decided to take Dan as I thought it would be a class that would suit him, and he did well although he was probably just lacking in a bit of experience vs some of the other entries. In time I think he could be very competitive in this kind of class.
He is getting more and more relaxed and overall today was a good outing for him. You do two rounds: Dan had a couple of fences in the first round and was a little green but in the second round he went really well. However I ended up down the field.
The organisers really look after the riders, sponsors and owners with a good lunch and goodie bags for all. The rain held off and it was a good day.
I also had a chance to catch up with a few people about Lumühlen which by all accounts was a really good competition – looks like Piggy has found another great four star horse in Flying Machine, who was apparently superb cross country and in the dressage and just showed his inexperience in the show jumping. His day will come. Paul Tapner was unlucky to not trot up on the last day as his horse had studded itself which was a real shame, and it sounds like Clayton had a great event with a double clear on his lovely grey mare Rosie.
All of the riders said that the investment in Lumühlen has all been great in terms of the facilities – arenas with good surfaces for schooling and competition and a lot of work on the ground on the cross country course. The riders felt it was a strong cross country track although not as tough as Badminton or Burghley, but there were a lot of accuracy fences. The show jumping was apparently on the big side which led to very few clear rounds in the time. Should be a good venue for the Europeans later in the year.
I'm off to the gallops tomorrow and schooling horses at home along with some teaching. I like these lighter longer days and am taking full advantage of them. I start riding very early in the morning as it's a good time to put in concentrated work in an uninterrupted way with the horses.
Final news to report is that Josh and Ursula jumped their first cross country fences today. They went to a rally and had a great time schooling over some mini fences at our local venue Swalcliffe – there were lots of smiles and only one tumble (for Ursula from Basil) and they did water, steps up and down and various little logs and banks – all in all a successful first outing and they both had a great time.
Cheers,
Bill
Posted 21st June