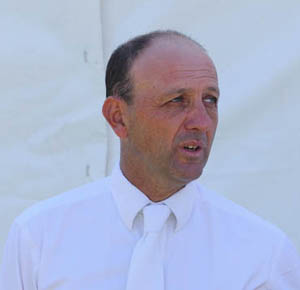 I've been at Hunters today for some dressage. Hunters, a local venue near Cirencester, was running an event for Eventers with tests from 1 to 4 star ahead of Barbury – the day was really well supported which was good to see. Fin was in the 2 star and Hipp and Tim did the 3 star test. Fin tried really hard and his test had some nice moments and some elements that still 'need work'! It was a good wake up call for me ahead of Barbury in terms of what I need to continue to work on with Fin (and also Womble) as both horses are in the two star at Barbury, hoping to secure a qualification.
Tim warmed up really well for the 3 star, and he's definitely much improved in his way of going, however he got too big for his boots in the arena and was far too excited and naughty so that was the end of that, however it was beneficial to take him out ahead of Salperton this coming weekend, and again I learnt more about him and how to prepare him and how he's going.
Hipp warmed up well and did a nice confident and calm test, he was much less tense/excited about being out than on our last visit to Hunters. I felt there was much more to come in the test so was pleasantly surprised to find I'd scored 70 per cent and tie for first place with Lucinda (Fredericks). There is a lot more to come in the extensions and as Hipp and I get back in the groove together and his strength and elevation improves I'm optimistic for better marks to come.
Tim, Fin and Silks all cantered well at the gallops yesterday ahead of their run at Salperton this weekend. It's one of my favourite local events and I'm looking forward to riding there this weekend – I'm hoping they've had some of the heavy localised down pours that we've had over the last week or so and that the ground will be good. It will be Tim's first run for a while and signals the beginning of his preparation for Burghley after our disappointment of not making the cut to get in to Badminton. Tim is on cracking form so I'm hoping we will continue to have a good preparation for Burghley.
I'm off cross country schooling tomorrow morning with a few horses to our local venue, Swalcliffe which also handily has a full set of coloured show jumps up which will be useful for Robbie who I'm preparing for his BYEH debut at Barbury Castle.
Enough for now, off for some curtain hanging in the spare room ahead of my parents arriving from Australia on Monday – cannot wait.
Cheers,
Bill
Posted 23rd June