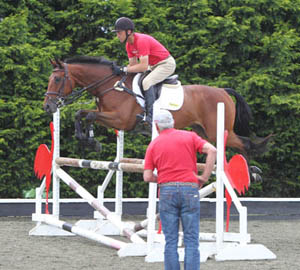 It's been another busy week. I've enjoyed being at home training the horses and doing a bit of teaching. I'm a bit of a 'homebody' at heart as I really enjoy the process of training horses, as well as competing of course.
It's been great to have my parents here, they arrived on Monday and it's just nice to have them about to chat to and be about. Dad is already stuck in to doing jobs about the place, he loves to keep active and is a huge help doing all sorts of jobs for us. Mum has been glued to the tennis while the kids are at school and then doing things with the kids when they are home. Jenny and I are flat out at the moment so having Mum and Dad around is a big help.
After a week of focus at home today I've been to Boomerang, a venue I've not been to before (but will go back to), for some Team Training. Prue Barrett (our performance manager) and Rod Brown (the aussie show jump coach) are over for the test event and so they put on a clinic for us to give us some training which was great.
I was lucky enough to have a couple of flat and jump lessons. Hipp and Coco did the flat lessons and also had a once over from the aussie team vets as they are both listed horses. In the flat lessons we ran thru some tests and they were videoed and then we looked thru them and critiqued them and then ran thru again. It was really helpful.
For the jumping I took some of my more experienced horses who I felt would mentally and physically cope with the jump training sessions. I was glad I had taken this approach as the sessions were great but taxing for me and the horses, with lots of new exercises. I was glad I'd picked horses which I felt would be mentally confident for these kind of sessions as, selfishly, I'm trying to make sure I absorb as much as possible as a rider in these kind of opportunities.
I only wish I'd had more slots! The day was very rewarding and I'm hoping Prue will set up more like it in the run up to 2012 – I think that is the plan which is great news.
Off to Eland Lodge tomorrow with Minty, Jenny, Darian and Eleanore. Then a day at home riding on Sunday and a giving a clinic at Crown Farm in the afternoon, followed by more riding on Monday and then down to the test event in the evening to observe on Tuesday.
Cheers,
Bill
Posted 1st July