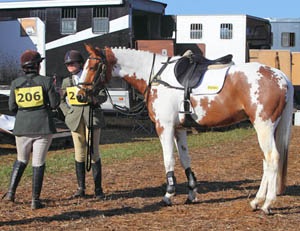 We've been at Eland Lodge for the day. It is a great event and one I can highly recommend. In particular the Novice track is one of the most varied and educational I know of. They also do a fantastic job on the ground and dress the fences really well. The ground had been watered, spiked and woodchip had been put down in the woods.
The cross country course has some interesting combinations, a decent job in to water and out over a mound to a fence. A log off a drop in to space on a related line. A related line of two trakeners, and early on a combination of fences that came up thick and fast of upright with a ditch to fore, followed by a corner and two upright skinnies on a related four strides – lots of educational, well dressed fences.
I had Minty in the BE100 and she gave me a good ride cross country, taking me much more positively and being less green and beginning to understand her job. She was a bit tense in the dressage and the show jumping but she will come, she's just young and sensitive.
Eleanore had a day to forget poor thing.She was in a dressage arena next to the cross country which Clover found far too exciting and they then had a show jump round that unravelled a bit – we all have them.
Mary had a great double clear, her first Novice and double clear. Really thrilled for her. She finished 10th. The show jumping is up to height in all classes and on a surface which means that the fences come up thick and fast.
Jenny had a mixed day. Bluey was back to his naughty ways cross country after going really well in the show jumping, but Mac made up for it going really well cross country and taking it all on, and just tipping a pole in the show jumping.
A day at home tomorrow working on the Barbury horses.
Remember Eland Lodge, highly recommend it.
Cheers,
Bill
Posted 2nd July