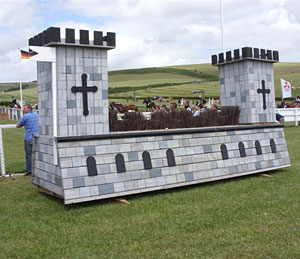 It's a busy few days with horses to ride pre and post our trips to Barbury for the next couple of days.
Today was Robbie's competition debut as he was doing the BYEH 4 Year Old class. I was really pleased with him as he tried hard in the dressage and jumped a clear round in the jumping. He was green but he kept focussed and did his best to please.
I was pleased with him, the judges however didn't like him, particularly the conformation judge, which made me crossed as he got really dinged. He's not a particularly flash horse, he's got a lot of thoroughbred in him but he's well put together. I came away grumpy and frustrated as I feel that often the horses that do well at these events are not true eventing types. Never mind….. It was a good experience for Robbie.
It was then time for Fin and Womble to do their dressage. Both are only 7 and the 2 star is a big ask for them as neither of them are yet really established at this level in the flat work. This run is all about getting their 2 star qualification to give us options re Le Lion D'Angers, the young horse championships in France at the end of the year.
Both tried hard in the dressage but there were mistakes. Finn's halts weren't good and he had one wrong strike off. Womble had some lovely bits to his test but quite a lot of mistakes. He got a bit tense so broke a few times which pulled his marks down. They ended up on a 61 and 59 respectively. We then did the trot up and headed home. The horses had a chance to get home early and stretch their legs in the field and I was able to ride some more horses.
I'm back tomorrow with Alex in the Novice and Moose in the retrained race horse class. I'll also have a chance to walk the courses and check out the ground. It will be interesting to see if they've made many changes. The waters are always tough enough here and it's a lot for a young horse in particular to take in.
Barbury is a great venue with brilliant facilities for owners and viewing of all the courses.
Cheers,
Bill
Posted 7th July