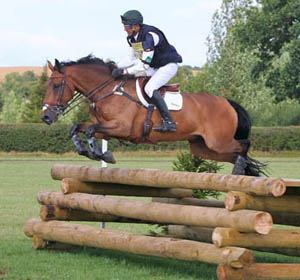 It's been a busy couple of days at Aston Le Walls and riding horses at home.
Aston has been a couple of days of mixed fortune – yesterday I had Alex in the Novice and dressage for the Advanced with Coco, Silks and Harry. Alex went really well – I was very pleased with him, he was relaxed in both jumping phases and felt really confident and relaxed. I didn't go flat out – his day will come, but he went well and ran a minor place. He's going to be a good horse but he's still only young and I don't want to push him too fast. However I was really pleased with him today as he's really beginning to take to the job and does it all well and easily, The judges seem to like him on the flat as he scored well despite several green mistakes in his test.
The rest of my dressage tests on Friday were not great. Coco was a bit of a boyo – it was his first competitive outing since Saumur and he was definitely pleased to be out – so he was a bit over the top in his dressage, jiggling in the walk and his halts and generally being a bit of a lad and inattentive! Silks was also doing the Advanced but he is forgiven a little more than Coco for an average test as it was his first advanced test and he's still not established at this level – my summary would be he tried hard in parts. Harry also sadly didn't do a great test, he struggles with the canter half pass as a movement as he's not laterally very supple and today he made it hard work for me.
Saturday started out no better  with Harry having an uncharacteristic large number of show jumps down –no reason for it, and not something that's happened before. I'm going to try and put it out of my mind and put it in the 'that's just horses box'. I was luckily able to run him around the cross country after the last horse went and he went like a top –gave me a great ride and very confident which was great given he's not run across a track like this since Bramham where he had his fall.
Silks and Ricky both jumped double clears in the Advanced running minor places. I was thrilled with both horses as Silks was stepping up a level and you never know how they will take to it butd he really felt confident and within himself. He's a cold horse and in this context it seems to be an asset as he took it all in his stride.
Ricky, who is still a pretty new ride to me, jumped a nice double clear and I was able to take a deep breath and feel a little relieved as it's always a bit of pressure when you take on a new ride as you don't know how it's going to go and there's of course pressure you put on yourself as you want it to go well!
Coco tipped a pole in the show jumping, my fault really – he was again a bit fresh and keen and I should have maybe taken another pull and added a straight in a related distance, however he still jumped well. He then gave me a good ride cross country – and felt confident handling all of the fences and questions easily> He feels mentally more and more mature all of the time.
Nigel Taylor had definitely beefed both the Novice and Advanced up a bit this time around and the ground as always was super – they'd obviously had a lot of rain on Friday night which gave good going all round. Nigel had added a few new twists to the advanced, a related line on top of the bank in to space and to a skinny and then a steep ramp with log on top out of the water in the first dew pond.
As ever Aston was a good event, with good courses and the usual good viewing facilities.
Tomorrow I'm riding at home and teaching a clinic over at Swalcliffe – as ever never a dull moment at Little Charingworth Stud.
Cheers,
Bill
Posted 23rd July