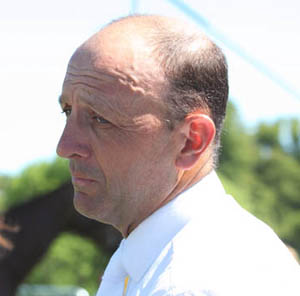 At this time of year I feel I'm at my most focused and that it's all systems go in terms of preparations. It's now that the ground work is done in terms of fitness preparations for the autumn goals horses may have. It's also the time of year where I continue to focus on fine tuning my dressage and jumping skills and training with the horses.
All of the horses who are out competing at intermediate level and above are in some form of fitness programme comprising of hill work, swimming and/or galloping. I find this combination of work sets horses up well in terms of building their core strength as well as their gallop fitness levels. It's a programme I've worked with for many many years. Horses that are in three day programmes hill trot each day in addition to a schooling session be it lunging, flat work or jumping. They don't hill trot on gallop days – then as the gallop work 'peaks' we back off the hill trotting work – usually about three weeks before the three day event goal, and just keep with the galloping and even with that we back off for the last ten days or so to ensure that a horse doesn't arrive at its main goal with tired muscles.
Bettina has been over this week and I've had some dressage lessons with her, I always find her sessions very helpful – I get lots of tips from her for things I need to work on and continue to improve.  This kind of help is invaluable.
It's been a good week at home continuing to prepare and train the horses – I like the early mornings as I can crack on and ride and get a lot done in the days – the rest of the week continues in the same vein with dressage at Addington with Hipp and Tim doing a couple of Advanced tests which is great for my riding and ring craft. I am at Cholmondeley on Sunday with Sunny, Alfie, Womble, Dan and Fin which I'm really looking forward to. I also mustn't forget the kids pony camp which has been going on all week and with Grace away on honeymoon Jenny's mum and my parents have been lending a helping hand. The finale is on Friday and I'm hoping to pop in to see the final afternoon's activities unfold. Always good fun.
Cheers,
Bill
Posted 27th July