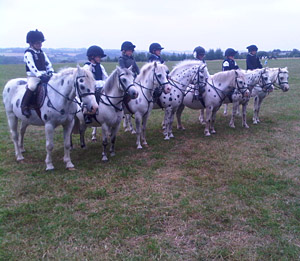 Another day, another new experience. It's been the final day of the kids pony club camp and in between riding horses and the gallops I was able to pop over to camp to see them doing some jumping and taking part in their final parade and award ceremony.
There was much activity in our house late last night as today was fancy dress and the pressure was on to not let the rest of the ride/team down! The theme was 101 Dalmatians as all the ponies in the ride were grey – so there was much amusement last night trying to make dog ears and tails from old tights, cardboard and a big dose of imagination -the spots were the easy part with a ready supply of black poster paint.
Anyway all the blood, sweat and tears paid off as 'A4' won against stiff competition including bikini clad boys and a take off of Zara's upcoming wedding – I think what tipped it was the kids instructor Fran who was a great sport dressing as Cruella DeVille.
Anyway back to earth, yesterday I went to Addington for some dressage practice with Hipp and Tim, I again found it very useful to ride the more complicated Advanced tests against the 'proper dressage horses' – it does help me with my 'ring riding' so all in all a useful outing and again Hipp particularly did well for an event horse!
This weekend I'm off to Cholmondeley, a new event, so I will report back on Sunday.
Cheers,
Bill
Posted 29th July