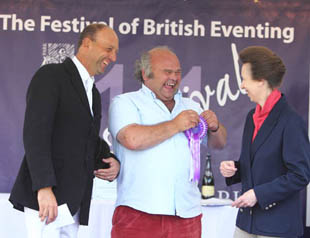 It was a good day at Gatcombe today – Silks was the star of the show jumping a double clear in what was only his second advanced outing. He ended up 5th so I was very pleased.
He went really well in the show jumping, coping with the advanced height, complexity and atmosphere well. He then seemed to go around the cross country very easily – the course was big enough with decent dimensions. There was a good test at about fence 6; a log two strides to a skinny house on an angle to another skinny house on a tight angle. The distances were forward all the way around, another tricky distance was a couple of triple skinny brushes. The ground was ok, it was firm enough but the rain earlier in the week helped and it did not ride hard but walked a bit firmer than one would ideally like. Silks does not get strong so gave me a lovely ride cross country and was extremely good into water, something which has been his achilles heel in the past.
My dressage tests today went OK, not as good as I would have liked but OK. Ricky and I are still getting to know one another so on one level I was pleased with our test BUT I know there is still much to come and to give. With time he will do a stunning test which is exciting. Harry did a better test and went very well for him given where he is at in his training – so that was pleasing. All the scores are tight at the top so it will certainly not be a dressage competition.
Coco also did his dressage today which was better than Aston but still not up to his best. The good news is he's feeling very well – the bad news is he's therefore being cheeky and that's exactly what he was in the ring. My warm up went better and I got some very good work, but he needed to be more consistent throughout the test. Frustrating but it will be OK over time.
The final word goes to Francis who stole the show at the prize giving, bringing a smile to everyone's face with his humour – he should have been on the stage! On receiving his prize from Princess Anne he replied…."Thanks for that! I don't know who the guy on my right is. He just appears from time to time…". I know my place!
Back tomorrow with Harry and Ricky in the Intermediate Champs and Coco in the Open.
Cheers,
Bill
Posted 6th August