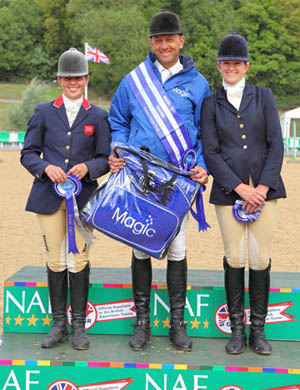 It's been a very, very good day today at Hartpury, one of those days you don't get very often in this sport so enjoy it when it comes! All three horses performed brilliantly and delivered for me which is very exciting.
Sunny trotted up well this morning after the exertions of yesterday and then had a long wait until the end of the day to jump in the two star. It was nice to have the distraction of the three star cross country as that made the day speed by which was great, as often waiting for the show jumping on the final day can feel like an eternity.
I walked the three star again this morning and they had again worked hard on the ground overnight, putting down a lot of water, so I felt it was acceptable to run on it. Ricky was up first and he was doing his first CIC3 star. I couldn't have been more pleased with him as he went brilliantly, going clear and securing his qualification. It was a tough track and took some riding and jumping; I took one long route at the double of corners with Ricky to make sure of the qualification but everywhere else we went straight and he was very genuine and up for it. Very pleasing as this is still only our third competitive outing together. An exciting prospect for the future.
The three star track was beefy and technical with the fences coming thick and fast, as in previous years the corners were a strong question requiring forward, committed and accurate riding and the water jumps were tough enough, again requiring forward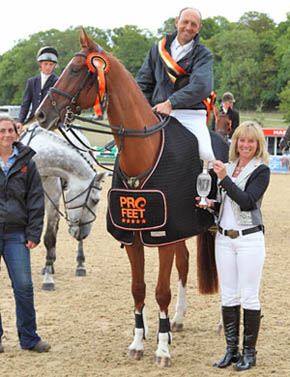 committed riding.
I decided in discussion with the owners that we would have a go with Coco. I felt the track had some good questions on it which would continue to round out his education and it would also put down a marker as to his ability to deliver a strong performance. The plan was always to run here and then aim for Blenheim. Thankfully all went to plan (not often you can say that with horses!) He went like an absolute star – he felt very mature and confident, galloping well and mentally coping with the questions asked of him, I could not have been more pleased with him. I was very, very excited, it is so special to have a top horse like him, especially one you've produced since a young horse – go Coco. He finished well and won the class, a great result for Team Levett and Coco's owners Mary and Gerry. Very pleasing.
It was then on to Sunny's show jumping which was a bit of a journey in to the unexpected! Sunny and I are still getting to know one another and we had only ever planned to come to Hartpury to ensure he had a two star qualification and we didn't have to chase one next spring as his expires at the end of this year. So to be in the lead going in to the final show jumping was very unexpected and a huge bonus.
Sunny's warm up was a team effort and I was grateful to have Caroline (his former jockey and owner), Roland (my show jump trainer) and Jenny (who knows me inside out) on the ground as with their collective help I felt I had a good, calm and effective warm up. To cut a long story short Sunny really tried in the show jumping. We could afford one rail and still win; we had that but the rest stayed up which is what counts, so that made it two wins in one day – I can't tell you how happy I am. So pleased for the owners, my back up team, the horses and also a little bit for me! It's a great confidence boost and confirms how I'm feeling – that I've never ridden better and that despite my age (!) my best years are still ahead of me. Long may this all last.
Cheers,
Bill
Posted 14th August