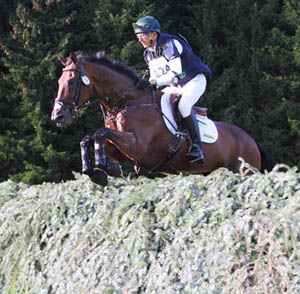 It's been an eventful day here at Blair today, but thankfully not for me. After a long wait until the end of the day Fin and Alfie both went clear cross country. The cross country caused a lot of problems across all classes including the Young Riders. All the tracks are up to height and require positive forward riding. Add to that the big pull up in all the classes and you certainly have a proper test which is what cross country is all about. There were a fair share of thrills and spills but no ugly scenes, when it went wrong it by and large went 'gently' wrong for people.
I was really pleased with both Fin and Alfie they are both still young horses and they both really tried to please today. They stayed on their lines at all the accuracy questions and kept jumping until the end. It was a big test for them both mentally and they came thru it very well. We show jump first tomorrow morning and Alfie and Fin are lying 9th and 12th respectively going in to the final phase.
The other event today was Jenny and Mac show jumping and suffice to say they completed which was satsifying for them. Mac didn't much enjoy jumping in the mud today, he'd never done it! But once he realised that meant he had to jump a bit higher he jumped a nice (second half) to his round!
Let's hope my horses have their jumping heads on tomorrow morning!
Cheers,
Bill
Posted 20th August