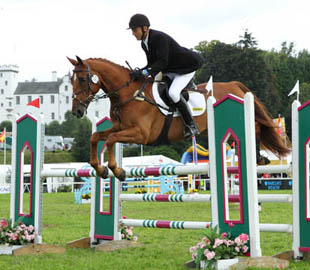 Just about to start the long drive home from Blair but it's a drive that is well worth making and we will be back next year. Blair is a great event, well organised, friendly team, good courses, good ground and lots of classes to chose between.
Fin and Alfie both looked good this morning, and were surprisingly fresh after their run yesterday. I'm glad I took them relatively steady as it was their first two star three day event. They both passed the trot up well and then the two star jumped first.
Both horses jumped well but each had an annoying fence down – on the one hand I was very pleased as both jumped well and felt like they still have plenty of jump on the last day, on the other hand they both felt like they were jumping a clear round – never mind some times that's the way it goes.
Fin finished 11th and Alfie 9th so a pleasing outcome and both have got their 2 star qualification under their belt.
Back at home, this week the waiting game continues with the uncertainty of not knowing re Burghley – I'm hoping Tim will get to run but its looking increasingly doubtful which is very frustrating. I'm also waiting to hear on the Blenheim ballot and from there I will need to make some decisions about other events to head to – uncertain times with ever changing plans. The number of runners and increasing number of ballots at three day events is certainly making it tough especially if you have a horse that doesn't need (for whatever reason) to run very much.
Will keep you posted as the week unfolds and hopefully the plan becomes clearer.
Cheers,
Bill
Posted 21st August