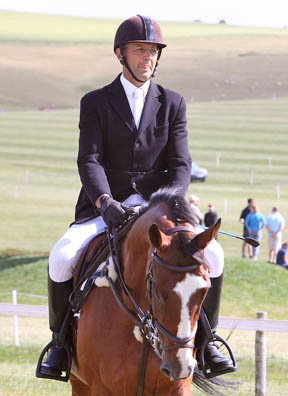 Well we are back from Blair and in to the swing of things again. All the horses galloped well on Monday and Maggie and Tom were both in the yard checking over the horses that had run at Hartpury and Blair. Everyone has been given a clean bill of health which is always a relief!
All the horses worked well on the flat today and it was strange to be riding in the rain again after such a long period with no rain.
The best news is that I've found out this evening that Tim is in to Burghley. I've not heard officially but while looking at the course at a friends house for dinner (thank you Anna!) we had a quick look at the entries and saw Tim's name on the accepted list! So big relief – we are number 97 so its now all systems go to make sure that Tim and I are properly prepared and focused ready for next week.
I'm thrilled for Matt and Jan who own Tim and for Tim as well that he should get a last hurrah at Burghley before we most likely retire him from this level of competition.
Watch this space to see how it all unfolds, but before then we are at Highclere this weekend with many of the horses running. Highclere is an event I enjoy and like very much and it will be nice to run the horses after some rain.
Cheers,
Bill
Posted 23rd August