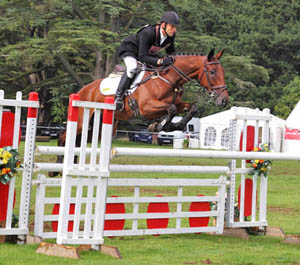 I've been at Highclere for the last two days and I cannot believe I'm writing this but the last day of the event has been cancelled due to rain, along with the last few sections of today! Ironic given we are only an hour and a half from Highclere and we could still do with more rain at home.
On Saturday I headed to Highclere with Minty and she continued to go a little better and more relaxed especially in the cross country. Highclere is always an event with a 'big event feel': the show jumping is always very bright, up to height and square with lots going on around it with the trade stands, and the cross country has some interesting variety and is up to height in all classes but rides very well.
I had a busy day riding before and after my trip down to Highclere and I feel the horses are all well set up for their runs at Burghley and Blenheim and the others are going well for the goals and events they have ahead of them.  
On Sunday I had a full day at Highclere until it was sadly cut short with the cancellation of the Novice/BE100. Alex got to do his dressage but sadly Sooty and Thea with Bob didn't even get to do that. Disappointing for all concerned but understandable as the rain had come down hard during the day and the event had turned in to rather a quagmire.
The exciting thing today is that Hipp was having his first eventing outing since Barbury last year. He was on at the crack of dawn this morning which given the weather I was with hindsight very glad about as he got to run on near perfect ground. He was very relaxed and did a competitive test followed by a lovely double clear. I took him steady cross country but he went very well and it was great to have him out again – thrilled with him with how he went and pleased for the Leggetts who have been very patient owners.
Sunny was also out and about again. He did a nice test with one or two little mistakes – there is much more to come and he will do a lovely test as our partnership together continues to build. He had two down show jumping but he went during a rain storm and the ground was getting deep. He jumped a nice round but we are still getting to know each other and I know it will all continue to improve as we gel more and more. Womble was also doing the intermediate and finished 10th. He coped well with the awful weather just rolling a pole in the show jumping and then jumping a clear cross country around a course which I felt was very educational.
I felt the cross country courses were strong enough. In the intermediate they had a big into space couple of left handed corners on 3 strides and a difficult  line two from the end, two narrow angled logs not very wide. All good educational fences. The rain kept falling very heavily and the ground got worse as the day went on sadly leading to the cancellation of the later sections today and the advanced tomorrow.
It's frustrating to all that tomorrow is cancelled but not too much of an issue for us as the Blenheim horses are all on track and have either run at Gatcombe or Hartpury – I feel sorry for those counting on Highclere for a prep run or qualification with so few advanced runs in the UK.
Anyway tomorrow we have an unexpected day at home which will be nice and we will go to the gallops and get the horses worked at home and have extra time to get organised for Burghley and Blenheim and of course a little family time.
Cheers,
Bill
Posted 28th August