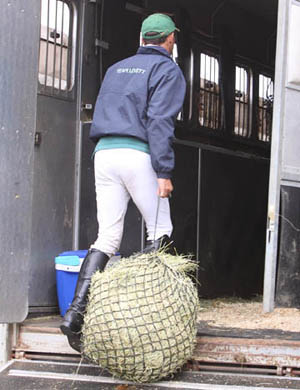 Highclere may have been cancelled last night however there was no rest for the team today, it's been a busy old day and I'm not sure where it has gone. Admittedly it was a slightly later start than normal, a rare treat, but it was not long until Jenny was writing endless lists, Eleanore was packing the lorry and I was teaching all of the working pupils in the school, giving them all a jump lesson.
I then headed to the gallops with the Blenheim horses and Tim had a work on the flat at home in preparation for Burghley. After that I took the kids swimming which was a rare treat for me as it's something only Jenny usually gets to do and they/she wanted me to see how much their swimming has come on – which it has.
So we are pretty much packed and organised for Burghley, Bettina is coming in the morning to give me some dressage lessons on the horses ahead of their three day goals – a rare treat, she is coming to me which will be great. Then we will head to Burghley in the afternoon – the kids and Grace are coming with me which will be fun and a bit of an adventure, and we are meeting some of our good friends there who Josh and Urssie get on well with – so let's hope the rain holds off! Tim will like the ground soft but not too soft, and with a lorry/tent full some sunshine would be appreciated, please! Jenny will stay at home to hold the fort with the girls with the Blenheim horses and  keep everything else on track and then join me on Friday afternoon in time for Tim's test. I've kindly booked her a gallop slot of 5.00am to make sure she doesn't miss any of the action but gets my horses cantered for me before she leaves!
I will keep you posted on progress from Burghely, I'm hoping for one last hurrah for Tim – he's a great horse, a true four star model and this will be his last four star before he is most likely retired from top level competition. The track should suit him as he has plenty of stride and scope to burn so I'm looking forward to riding him around the course which I've been studying on the computer. Until then the focus is on the dressage and trying to ride him to the best of my/his ability to make him proud at this his swan song.
I'm sad Matt cannot be with us but I know he'll be watching our every move on Burghley.tv and Jan is able to join us which is great news. It's exciting to be heading to Burghley, I've been doing this job for many years but the buzz and anticipation of heading to a four star never seems to fade.
Cheers,
Bill
Posted 29th August