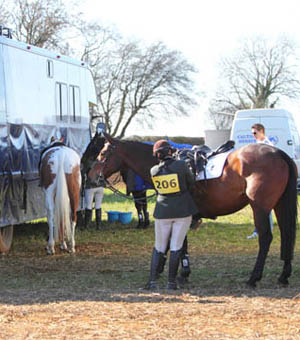 The ground at Gatcombe today was superb which was good news. However sadly my result was not. The great news is that the girls (Darian and Mary) had a good day – Darian jumped a double clear and Mary had a clear cross country and just rolled a couple of poles in the show jumping.
I had Alex in the novice; he is improving all the time on the flat and did a nice test, although there is definitely much more to come. He then jumped a nice clear show jumping so I set off cross country full of optimism as he was in a competitive position. He gave me a cracking ride cross country, really feeling very confident and grown up, so it rather took me by surprise when he spooked at the wall in the log/wall combination going in to the wood and ran off down the side of the fence! Just a baby mistake but frustrating as I was on for a good placing! Never mind, that's horses and overall I was very pleased with him.
Sunday is a rare day at home as a family which I'm looking forward to. Then a week at home working horses with a trip to the gallops and show jumping before Moreton Morrell and Aske Hall next weekend.
Cheers,
Bill
Posted 17th September