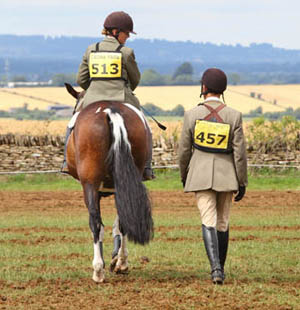 It's been a good week; a productive outing to Allenshill earlier in the week with several horses and time spent at home schooling the horses. At Allenshill we all got drenched which hasn't happened in a while – Dotty and Robbie went well as part of their prep for the four year old finals. Minty was more relaxed and went well when she wasn't tense to or over her fences. Moose and Sunny both jumped well which was good news. I'm still building a relationship with Sunny despite our win at Hartpury so it was time well spent as an outing.
Today we were at a local event Moreton Morrell – I was riding Minty in her first novice and Obi, a horse that is just here to do a few events for the daughter of one of our owners. Thea and Issy were also competing and Jenny took Mac, Bluey and Patch. We were all interested to see what had happened in terms of improvements to the ground. We were all very pleasantly surprised as the ground was much much improved – they had clearly worked hard on it which was really pleasing and we made sure to feed this back to the organisers.
Thea and Issy went well, Thea coming 9th on Bob and Issy completing her first BE100. Jenny had a good day on her horses although no prizes, she needs to go faster cross country!
I, however, had a very average day – Minty was a bit naughty in the dressage being spooky and silly (although a lot of horses were in the particular arena I was in for some reason). She then had a couple of poles show jumping, she went better the further she went as she relaxed during the round. She then went well cross country, just having a green run out at a skinny after a drop fence.
Obi did a respectable dressage but was then naughty in the show jumping but went well cross country – so not the best of days but some times it goes like that and the horses will have learnt from the day.
It was a quick dash home to ride some of the horses heading to Aske Hall tomorrow. I'm looking forward to tomorrow – I'm riding Alex, Sunny, Fin, Womble and Alfie which should be fun!
I'll report back tomorrow.
Cheers,
Bill
Posted 23rd September