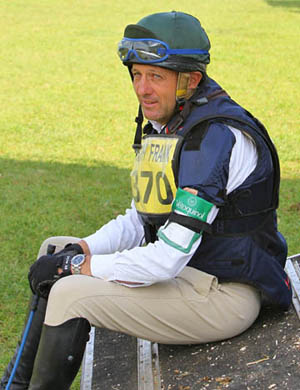 It was an early start today; we had to leave at 3.30am for Little Downham as I was doing dressage on Hipp at 8.20am and had to walk the courses before that.
Little Downham has been an event I've really enjoyed in the past as I've historically always found the courses well built and educational with interesting fences, for example the water complexes which you don't always get with such variety. I've not been for a while and sadly for one reason or another the site is now significantly smaller than it has been in the past which leaves the tracks much twistier but still educational.
Unfortunately the unseasonally warm weather was not good for the ground. This event has always had good ground in March and October for a reason that the land drains well, however with the recent parched conditions the team have had a tough time preparing the going. Despite the work I felt the ground wasn't good enough to run the horses on; it was inconsistent in places – good in parts and then rough in others and I just didn't want to take the risk. Womble heads to Le Lion and will get by without the run, Hipp is coming back from an injury and Alfie and Fin have done plenty this season. In the context of the longer term plan I just didn't feel it was worth the risk. Particularly frustrating with Fin as he was well in the lead after the dressage and jumped a good clear show jumping. I was grateful for Francis and his understanding as it was tempting to run but in terms of a bigger picture not worth it.
Hipp was first up in the dressage and went well considering it was his first Advanced dressage test in a while. He did an accurate pilot test to score a 30, just 2 marks off the leaders and the exciting thing is there is much more to come. He sadly rolled a couple of poles in the show jumping but I'm not worried as he was just a little ring rusty at this height and basically jumped a good round and he's a jumper – just goes like this sometimes.
Alfie did a much better test in parts especially in the canter but wasn't settled in his halts or rein back. He then jumped a lovely show jumping round, being unlucky to just roll the middle part of the treble.
Womble was quite excited in his dressage and then feeling fiesty in his show jumping but jumped clear – he's definitely feeling fit and well and ready for his overseas adventure when we head to Le Lion.
Fin was the star in the dressage ring leading his section and he followed it up with a lovely clear in the show jumping around what was an up to height and square track.
So no prizes and rather a frustrating day but not really the fault of the organisers as the weather has been so unusual. I stopped off at the gallops on the way home to give Womble his fitness work out as it's important he doesn't miss out on that.
The rest of the week sees me at home which will be nice as I'm not heading to Boekelo or Pau – a chance to crack on with the horses at home.
Cheers,
Bill
Posted 3rd October