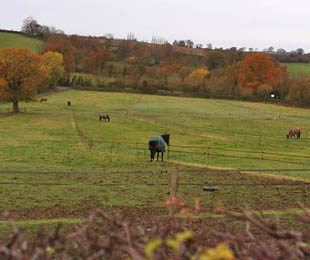 It's been a nice week for me as I've been at home working horses and catching up on jobs around the place. After so much time in the lorry I enjoy spending time in one place and not leaving the yard. It's been good to put some time in to catching up with jobs at home and getting ready for the winter, doing dull but necessary jobs like getting the muck heap shifted and spread on some local fields. It's also the time of year we try and get on with a few jobs to try and take the place forward – such as improvements to the paddocks and facilities for the horses.
This weekend I wasn't competing and we got to spend some quality time as a family – although the rest of the family were competing! Josh and Urssie took part in our local Pony Club tetrathlon, coming 5th and 6th in the teams respectively, 10th and 15th individually and most importantly having a good time and crossing the finishing line with a big smile.
Jenny was also competing with Patch and Bluey at Calmsden, a nice local event, and I went along as super groom to help Jenny and Issy who was also competing on Bertie. All of them had a good day out, all jumping double clear which was a good outcome. It's a nice educational course with a few good pulls in it so you need a fit horse.
Now on my way home to catch up on the rugby highlights and enjoy a sunday roast – one of the parts of living in the UK I love!
Cheers,
Bill
Posted 9th October