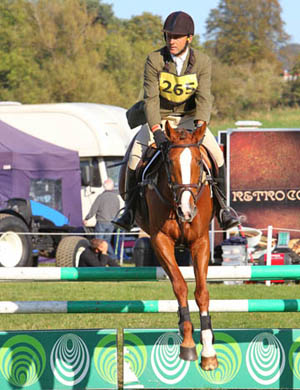 I do enjoy competing at Broadway as it's such a local event to us, the kids always come along and we have a great family day out. However before we had fun at Broadway as a family in the afternoon I had a focused morning riding at home schooling the horses – something as you know I enjoy. Again the weather has been great which makes the job so much easier than when it's howling a gale.
The afternoon was down to Broadway where I was riding Minty in the BE100. Things didn't start well as she bucked me off before I'd even begun getting on her in the lorry park before my dressage with her, but they rapidly improved and she then jumped a nice double clear  – humming around the cross country. She remains a sensitive and complex horse – a typical woman (Jenny will slap me for saying this), and she frustrates me that she still has a good go at bucking from time to time, and she's so hard to sit to when she goes – however she is improving, but she will always remain sensitive and a horse that needs patience and time.
Jenny was also competing Bluey and Patch. Patch went well, jumping a nice double clear, and Bluey went much better in the dressage – he's starting to relax and soften although the judge had other views. He then jumped a lovely show jump round but annoyingly had a rail – Jenny then didn't run him cross country as he's been around before and she was keen to focus on ice cream and coffee with the kids!
We then had a rare night out with our good friends Alex and Miranda who were having a Christmas drinks party (our first of the year you'd be surprised to hear!) – a little early you might say but they have a good excuse as Miranda is expecting in early December – so wisely they had planned ahead. We had a lovely evening with friends, although no singing from me this year as I had to get a relatively early night before a 3.45am leave for Oasby!
Full report on Oasby to follow tomorrow – I'm just hoping they've had more rain than us as I would dearly like to run Hipp tomorrow cross country. Broadway was firm but had pretty good grass cover so I was happy to hack around it, we do so need some rain – the sunshine is lovely and I do like staying dry all day but would love some rain at night please!
Cheers,
Bill
Posted 15th October