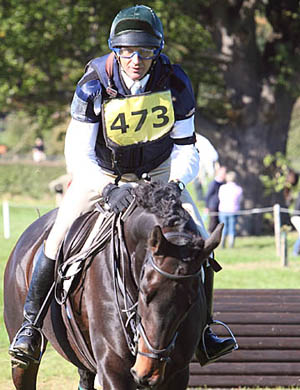 A long but very productive day at Oasby, my last event of the UK eventing season. We had a very uncivilized start time especially given we had some long suffering friends staying last night, but they are horsey and understand the mad world which is my/our life.
Anyway I timed it well and after a quick cat nap on arrival while the horses had a leg stretch I was able to walk the course as the sun was coming up. I had Alex, Moose and Obi in the Novice and Hipp and Sunny in the Open Intermediate. It was a sad day with Moose as it was my last event with him – I'm now handing the reins back to Miranda who will event him next year after the birth of her child in December. He's such a great cross country machine she will have a lot of fun with him again next year.
Moose had a good day jumping a lovely double clear and finishing seventh so a great note to end on. Obi is becoming a less of a problem child and I managed not to fall off him for the second event on the trot; he now returns home to his owner Min for her to hunt, my job is done as I was just helping to get him going again after a blip. Alex was the star of the day coming second in the Novice, he is definitely ready (after a holiday) to start to crack on – he feels so grown up now and today he felt real class in the jumping phases. After his holiday he will have some concentrated work put in to him on the flat – I'm beginning to get very excited about him for the future, he's a big horse and has taken time but patience with horses is always always something I've not regretted.
Alex will now have a well earned holiday turned away with Fin and Robbie – three young horses having a mental and physical break in the paddock until the weather turns, so probably for the next 4 – 6 weeks. They will come in if the weather gets very bad and we keep their front shoes on but other than that they have a complete chill out and just get to relax and get muddy and hairy for a few weeks – I find this really benefits the young horses in particular.
Hipp and Sunny did the Open Intermediate – Hipp was the dressage queen scoring a 25 – he was very chilled and did some really consistent quality work. He then jumped a lovely show jumping clear and I sadly decided not to run him cross country – the ground was firming up all day long in the drying wind and after being so patient with his rehabilitation I decided it wasn't worth the risk. His big goal for next year in the Spring remains Badminton so even though it was tempting to skip around today and try and win with a 10 point lead after dressage and show jumping it just wasn't worth it in the bigger picture.
Sunny was pleased to be out – he did some lovely work in parts in his dressage test and then in other parts he found it all very exciting, so we ended up mid field. He then show jumped well having two rails, which on paper sounds disaapointing but he jumped well and it was just one line which was a victim of us still building a partnership – only minor tweaking but enough for him to tip one rail and then as a consequence get unsettled and have enough. He then cruised steadily around the cross country – going beautifully and feeling very good on his lines, confident and up for it and always on the job. He's such an exciting horse to ride cross country as he eats up the ground and has a fabulous engine and is so light on the ground – very exciting to ride, he feels like a real four star horse.
So Sunny also finished on a good note and Caroline and Pam picked him up from Oasby to take him home for a break at their place for a while to allow him to chill and recharge his batteries. I'm looking forward to continuing to build the partnership with him in the Spring.
The tracks at Oasby were good as usual – the show jumping seemed to cause its fair share of problems, I'm not sure why other than it's quite square and poley as I didn't think it was overly big. The cross country courses are always nice, there is enough to do with some good questions and accuracy questions and although the ground was firm and got firmer during the day it is flat and not rutted. The course also has excellent viewing which is nice for supporters as you really get to see horses in action around most of the course.
Home to pack for France where I'm heading with Womble tomorrow.
Cheers,
Bill
Posted 16th October