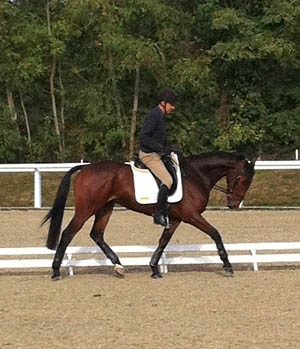 As my dressage is not until tomorrow lunchtime today has all been about getting prepared.
Womble has had two works and seems to be staying relaxed (at the moment) and working well. I also wheeled the course which is 9.55minutes to get my minute markers and have a second look at my lines and get more of a feel for the track.
The dressage runs with the 6 year olds in the morning and 7 year olds in the afternoon each day. The dressage judging was a bit strange today but by the end of the day there were a few good tests, with one of the Germans in the lead on 39 and then 4 or 5 in the 40's. Womble seems settled and so I'm hoping for a test in the 50's and if he does not get tense he should do that.
They have the young horse sale here and each day they show the horses being ridden which attracts a few people. The horses are aged from 3 to 6 with some quite nice ones amongst them – which is good to watch, although for me sadly I'm definitely looking and not able to buy!
Anyway we have all things crossed for tomorrow for Womble's dressage, although I predict it won't be a dressage competition and that after the cross country it may all change.
Cheers,
Bill
Posted 20th October – photo by Ali Butler