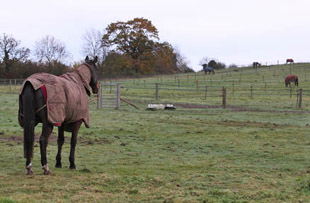 Well we are home safe and sound from Le Lion, and Womble is out in the paddock munching away.
I cannot tell you how frustrated I am with the last part of the season, but such is life and this is very much horses. It gives me some grit and focus to ensure I'm as well prepared as possible for next spring. I have purposefully staggered some of the horses holidays so Hipp and Coco for example along with several other horses will be having some focussed training over the coming weeks and months in order to ensure I'm putting in as much ground work and preparation in over the winter for a successful 2012 campaign.
Someone told me today I ended the season just outside the top 20 in the BE rider rankings, and most importantly for Australia at the moment I'm not doing too badly in the FEI rider rankings, where the Aussies need the points to qualify a composite team for London. So it's not all bad news. It will be interesting to see how things play out as I understand both Italy and Ireland are putting on February CCI***s to try and ensure that there is the possibility of securing extra FEI points ahead of the 1st March cut off. It will be interesting to see what additional events actually get off the ground and then much head scratching will need to follow to work out what that means in terms of plans for the early part of next year in terms of goals.
Watch this space.
Cheers,
Bill
Posted 24th October