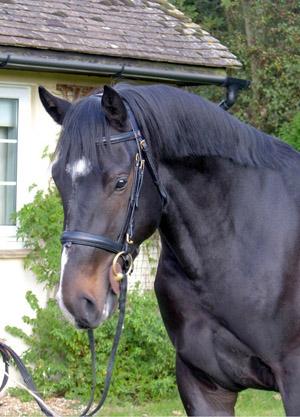 We have a new member of the team, a 7 year old, dark brown/black, 16.3hh Sports Horse by Major League out of Diamond Shadow, by Slyguff Joker – posh name Major Diamond Flight, stable name JJ. He has actually been with us for several weeks as we were approached by his breeder and owner Justine Napier to see if we would be interested in assessing him as an event horse. Until 18months ago JJ was a working stallion and he has some nice young stock on the ground, he also did well in his gradings as a 2 and 4 year old. Sadly family illness led to Justine having to turn him away and that wasn't practical as a stallion. Hence he's now a gelding.
He is a lovely, kind natured horse with very good paces, particularly his walk and canter – and he has a great engine and proper gallop stride with plenty of scope – so we're excited that he could turn in to a proper eventer, time will tell. Major League who also sired Dotty, and many other successful competition horses.
It will be exciting to see how he makes up as a horse over the winter as in many ways he's more like a 5 year old than a 7 year old, but given he's a big rangey horse it will have done no harm for him to have had a couple of quieter years in the paddock.
I will play around with him over the coming weeks bringing on his flat work and giving him some life experiences, hacking, seeing the countryside and taking him cross country schooling along with a few local shows to get him a little more wordly wise and then the plan will be to start eventing him in the Spring.
More to come I'm sure on him.
Cheers,
Bill
Posted 3rd November