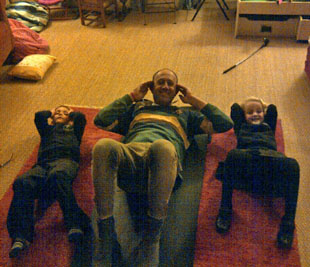 Thought you'd all be amused to hear that I'm trying to prolong the life of my rapidly ageing body with a focused attempt to improve my flexibility and core strength. I've napped at doing pilates and yoga in the local village hall with a room full of ladies (although I did go a few times) and have now got a programme which is more manageable and sustainable! Which for me is half the battle.
With some support from the Equestrian Federation of Australia and Jon Pitts I've set up a programme which Connor (my trainer) and I are working through to improve my core strength and flexibility, and in so doing hopefully help me ride my horses more effectively. I have a programme of stretching I do each day – and then Connor helps me three days a week – I was skeptical to start but I have to say I do feel better for it!
The only sad fact at the moment is that the kids (and remember they are only 6) can easily out do me on many of the exercises, which causes much laughter for them and for me!
Other news from the yard, not a lot really other than Dotty went home today for a winter holiday. She is still only young so a break will do her good and it will be nice for Vanessa (her owner) and the wider Briggs family to have her home. I love working with Dotty as she loves work and seems to love to be trained, she thrives on learning new things. It's so interesting how each horse's personality is so different. I'm looking forward to starting her eventing career next spring – exciting!
I'm off to collect the lorry this evening which has been in the garage for some TLC – during the season it does a lot of miles and endures some pounding from the horses. The partitions and ramp have not been the same since Tim and Silks set to at them last season and the general use they get is pretty heavy duty so it's important in the off season to make sure the lorry gets a complete maintenance check.
Cheers,
Bill
Posted 25th November