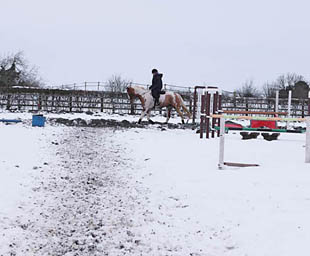 For the second week running the snow and ice have scuppered my plans to get the horses out cross country schooling which is frustrating, but it's all part of life's rich tapestry and there is no point complaining as it just is the way it is!
We have been very lucky that our school hasn't frozen and so we have been able to get the horses worked and I'm trying to ensure they don't all get too bored with endless trotting in circles. This has required some use of imagination to ensure the horses are kept entertained with various athletic exercises and not just schooling on the flat while we are unable to hack, go cross country schooling or do hill work with the frozen ground.
It's amazing how many different exercises you can construct involving a few poles and either blocks or drums/buckets if you don't have blocks. One of my favourites is what I call a four stride exercise where I put a little fence up (literally on blocks so 60/70cm) and then four strides to another little fence and then four strides to another little fence. You then work on control and quality of the canter over the line of fences, trying to achieve 4 and 4 strides over the fences or 5 and 5 strides or mixing it up with 4 and then 5 between the fences. It is not as easy as it sounds and will soon find you wanting if you don't have the horse between hand and leg and cannot get the necessary adjustability in the canter – have a go at it.
Cheers,

Bill
Posted 10th February