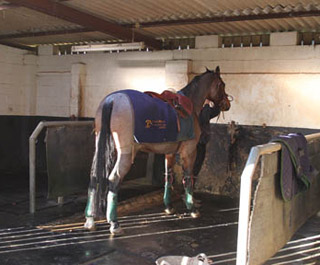 I've got a big smile on my face as I was able to get out cross country schooling today to Grange Farm, Swalcliffe – one of our local venues. The ground was perfect and it was GREAT to be out on the grass again – really enjoyed it!
I took the younger horses today; due to the weather they are starting a week or so after I'd ideally like but I couldn't have been more pleased with them all and so I'm left less concerned about being ready for the first events.
For Timmy and JJ it was their second ever cross country school and although they were still very green they were both willing. JJ in particular feels like he has plenty of scope and stride and once he's shown once is very willing to have a go. Timmy is a little more suspicious but he is a generous horse with a kind nature and once he's understood he is also willing to have a go – so they both did all that was asked off them – getting their feet wet, going up and down steps, jumping a ditch or two as well as some accuracy questions – so all in all a good experience for them. I will take them both several more times, as it's important not to over face them, and to give them time to 'digest the experience', so I feel little and often is key.
Silver was also having her first cross country school with me, and she was also a little green but again very willing. Given she has done a little showjumping and hunting she has seen a bit more of the world and seemed to take it all in her stride once she got going. She will benefit from the experience and come on again over the next couple of schooling sessions.
Sooty and Lala have evented before up to Novice level but not with me, so with them it was more of a case of getting used to them and them to me, and getting them in the groove as neither of them have evented since 2010 – but I'm excited to see how they both go this season as they gave me a good feel schooling.
Robbie went well – he did a couple of four year old classes last autumn, and the winter turned away plus this little bit of previous experience meant he came out feeling a lot more mature than the first timers – I always find it interesting how a break often helps a young horse to mature and grow up a little, not for all but definitely for some.
Tommy, my favourite pink pony, was also having his first cross country school for some time and he was far less exuberant than I had been expecting. I was pleasantly surprised by how settled and mature he was about the whole experience, again I'm really looking forward to getting him out and competing him this year – he feels so much stronger and more mature. I think a year out last year has benefited him hugely, mentally and physically.
Finally Darian had a good day schooling Clover for the first time this season and they slotted back 'in to the groove' well which was pleasing for them and for me as I'm the trainer!
Looking forward to going schooling again early next week  – there is no better feeling than being out on the grass again!
Cheers,
Bill
Posted 17th February