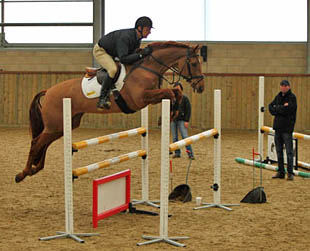 It's been an enjoyable but busy couple of days with team training. We are in the middle of a four day training camp at the Unicorn Trust near Stow on the Wold.
The core of the Equestrian Australia team (Prue, Brett, plus vet and physio (horse and human) support are over to put us through our paces and give us valuable input. The help has already been invaluable with two days of jump training with Gilbert (Bockmann) and I have a further two days of dressage training with Brett Parbury to come.
I've been lucky enough to be able to take my horses on both the elite and futures squad and all have gone well, and importantly I've taken out some really useful inputs for how to train each horse.
It's also been great for the owners as the facilities are wonderful and the owners get the opportunity to watch the training sessions up close which is great in very civilised facilities! I feel like a very lucky chap to have such nice horses to ride and a great and supportive team of owners and supporters/helpers around me.
Will report back with more details.
Cheers,
Bill
Posted 26th February