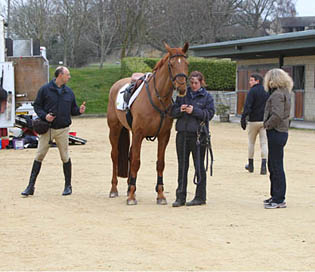 On Sunday night we had a great chance to learn more about how the Olympics at Greenwich are going to run as Alec Lochore came along and did a presentation on what to expect and how it would all work for riders and owners. It was very interesting and I was left with the sense that, if selected, one will definitely be in the heart of the games – and that can only be good for the sport.
I also came away with my mind clear that the site will be compact, busy and intense and that the cross country will be 'full on' at roughly 10minutes. With significant inclines throughout and always on the turn it will be a real cross country test, and very intense.
Today, Monday, I had the opportunity to round off my show jump training with Gilbert, with the opportunity to jump a round of show jumps and for him to then give a critique of my rounds. He also gave me helpful input on how he best thinks I should warm up each horse. Again all incredibly helpful and interesting.
I thought the horses would be a bit tired but not a bit of it. They were very fresh and full of the joys of Spring! I was very proud of them all and they all jumped well. I was left feeling like I'd learnt a huge amount and that I have some wonderful horses to ride.
Monday has also been a good day for the owners as the EA had kindly laid on a lunch for them all so they had a chance to watch their horses work and have lunch, and so that has all been good. Sadly I was busy riding so didn't get as much time as I would have liked to chat with people but it was still great to see them.
The afternoon is all about starting to get some input on my dressage from Brett Parbury who helps the Aussie squads, so I'm looking forward to that.
Cheers,
Bill
Posted 27th February