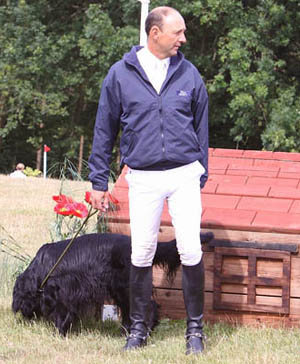 I have just arrived back from our first day of affiliated eventing in 2012 at Oasby – I was out with a few of the young horses and Womble, who was 'uncle' to them all for the day, showing them how it should be done!
The ground was really good, with just a nice cut in it. I had Womble in the novice and he went really well coming off the back of his fall at Le Lion. He did a nice test and then a lovely double clear. He feels a lot more mature and not so much working against me this year so I'm very excited about him. The Novice course had a decent corner at fence seven but I thought the rest of it was fairly straight forward, as it should be for this early part of the season.
The rest of the horses were all doing the BE100 and for most of them it was their first 'proper' outing! They all put their best foot forward, with just little green mistakes happening here and there through lack of concentration, particularly in the dressage and show jumping!
With the young ones I find if you let them just get a taste of things for a couple of seasons with no pressure and allow them to gain experience, then after that it starts to get more serious BUT they have a solid grounding and so things tend to come less unstuck as the eventing gears up at the 'higher levels' and they usually cope well.
The BE100 course was again a lovely track to start them going, with nice variety in the fences without it being too difficult. Some of the young ones had a bit of a look in the bottom of the trakener but we all made it to the other side and came home with a smile on our face.
Cheers,
Bill
Posted 9th March