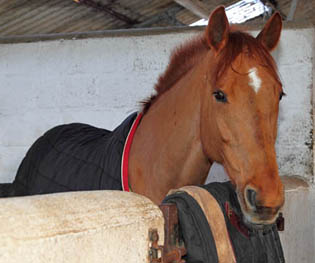 It's been another good day at Oasby today, I couldn't be more pleased with how the horses have gone. It's not reflected in coming home with bucket loads of prizes but that was not the point of the day. I had Alex, Fin, Sooty and Tommy all doing the Novice and they all went really well, jumping double clears bar Alex who just breathed on a pole in the show jumping.
Sooty was the star of the show coming third in his Novice section, but Tommy also deserves a special mention for achieving a double clear at his first novice outing. Fin and Alex are now well set up for their step up to Intermediate next time out – a step I feel they are both ready for.
The dressage was a rather exciting affair in parts but in some ways I don't mind it that the horses are pleased to be out! Alex was the one who caught me most off guard in the dressage as he was warming up beautifully and seemed ready and so I gave him a walk break – big mistake as when he got in the ring he was too fresh – never mind I know he has it all within him and has all the ability so I'm not overly concerned. I thought Sooty, Tommy and Fin all did nice tests but the judges had a different point of view, especially about Fin which was a bit frustrating but that can be life sometimes!
The ground again was excellent today and once again I thought the Novice rode well with enough to do without being too much for this time of year – a good education for the horses. Was nice to see so many of the owners out and catch up with them, a special thank you to Mike (and Ann) for the food today – was very much appreciated!
Tomorrow we have a day at home and  a chance to catch up with things at the yard and then next week is a week at home with gallops, cross country schooling and dressage lessons.
Cheers,
Bill
Posted 10th March