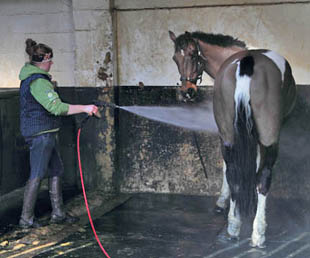 The last few days have been very busy but enjoyable. On Wednesday I went to Aston cross country schooling with Hipp, Coco, Ricky, Dotty and Alfie – there was a BE training day going on so the world and his wife were there. However I was able to get a good schooling session in with each of my horses and Nigel kindly let me jump the fences I was particularly keen to have a go at. The ground was excellent.
All five horses went extremely well with Hipp being abosolutely top class, the old pro and really feeling on top of his game. It was really fun to have such a nice group of horses to ride, including Dotty who is the youngest of the five in experience and age as she's only just rising 5 , as she is a natural cross country horse. They all felt more than ready to take on their upcoming competitions.
Bettina is now based in the UK in the run up to Badminton and so this time it was dressage lessons at home which was great for me. All the horses have come on since my last lessons and I really feel I am getting more confident in how to get the best out of them. Lets hope I can translate this confidence in to results over the coming weeks and months.
This weekend we are at Swalcliffe with the young horses and WPs on Saturday and then I head to Lincoln early on Sunday morning with Coco, Fin, Ricky and Alfie. So should be a good weekend and I'm looking forward to it.
Cheers,
Bill
Posted 16th March